---
Sugar-crested Molasses Cookies
Recipe taught to me by my maternal grandmother, Erna Clara Augusta Obenhaus Holtzen.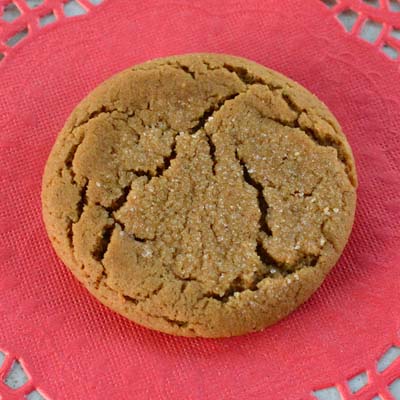 Sugar-crested molasses cookie with characteristic crevices after baking.
Ingredients
3/4 cup shortening
1 cup brown sugar
1 egg (beaten)
1/4 cup molasses
2 1/4 cups flour
2 tsp baking soda
1/4 tsp salt
1 tsp cinnamon
1/2 tsp cloves
1/2 tsp ginger
Instructions
Mix shortening and sugar until fluffy
Stir in beaten egg and molasses
Sift flour with soda, salt, and spices
Add to mixture, stirring until well blended
Chill for at least 2 hours
Shape dough into large marbles by rolling between palms, dip formed dough into sugar, and place on greased (or better: parchment-lined) baking sheet
Bake at 375 F for 12 to 15 minutes. Choose the shorter time for a chewy texture and longer time if you like them crispy.
---